Thoughtful Tuesday KNOWSY Readers
, how is everyone doing today? Are you enjoying this
Holiday Season
in the company of your family, friends and coworkers? Hopefully the weather is behaving in your area of the world allowing you to be in
good spirits
! One of the biggest things to do,
other than Shopping
during the holidays is
Eating and Cooking
, not necessarily in that order, especially in the cooking area,
Baking
is generally a major activity!
In today's society more and more folks are wanting to go back to
less processed foods
, to truly live a more
Natural, Organic
and
Wholesome (a.k.a. NOW) Lifestyle
. The way to accomplish this, if you are not a
local farmer
, or do not live near a location that grows and/or sells these types of foods is travelling a distance or searching online to purchase these goods.Well you are in luck, I have recently signed up (as an affiliate) with a company called
Thrive Market
. you may have noticed some of their offerings appearing on your
Facebook
feed.
I chose to sign up with this company due to the great products this company offers as well as the fact that they offer these
goods at wholesale prices for their members
, even better your
first 30 day membership
is
FREE
, so that you can "test" it out BEFORE becoming an actual "Paid Member", to see if you like/love their products and service!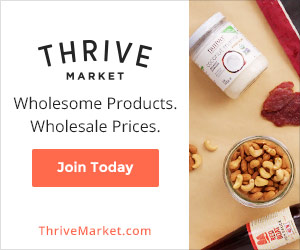 What is Thrive Market?

Thrive Market is the first socially conscious online store offering the world's best-selling natural and organic products at wholesale prices. We carry over 2,500 of the highest quality food, supplements, home, personal care, and beauty products from over 400 of the best brands on the market, all delivered straight to your door at 25-50% off retail prices. Our mission is to make health living easy, affordable, and accessible for every American family.